ANNOUNCEMENT! ANNOUNCEMENT!! ANNOUNCEMENT!!!
ANNOUNCEMENT FOR NKOLOFIA RESIDENT IN LAGOS ONLY!
There will be general meeting of Nkolofia Village Lagos branch on Sunday 8th of September 2019 at AIU Civic Center Surulere by 2pm prompt. Pls Inform others if you receive this message. Thanks: Secretary Nkolofia Lagos branch.
NOTICE! NOTICE!! NOTICE!!!

ANNOUNCEMENT! ANNOUNCEMENT !!!
EMERGENCY!
EMERGENCY!!
EMERGENCY!!!
There will be an emergency general meeting of AIU Lagos branch on Sunday 24th March 2019 at our civic centre Surulere by 2pm prompt. Very crucial matter regarding the EKE MARKET STALLS shall be top on the agenda. Please all the Etitian residences in Lagos are expected to be there. Inform others if you receive this message .
Thanks
Secretary AIU Lagos branch
ANNOUNCEMENT ANNOUNCEMENT !!!

ANNOUNCEMENT ANNOUNCEMENT !!!
Please be informed that the annual prayer meeting of the Ejighinandu community in lagos, will hold on Sunday 11th March, 2018, the AIU civic/center surulere by 10:00am. please fast & pray on Thursday, Friday, and Saturday, 3days immediatly before the prayer day, from 6 to12 or beyond, with psalms 51, 24 & 103. please don't come with your children. Thanks.
ANNOUNCEMENT ANNOUNCEMENT!!!

AIU GENERAL ELECTION
The AIU General Election comes up on 25th Nov, 2017 from 8:00am prompt at the Town Hall.
Eligible votes are advised to come out and vote for their preferred candidates to run the affairs of our Town for the next 3 years.
AIU LAGOS FASTING AND PRAYER
AIU Lagos branch is having a 3 days fasting and prayer, Thursday 26th Oct 2017 to Saturday 28th Oct 2017.
Time : 10:00am, location; Awka Etiti Civic Center.
ANAMBRA DAY!!!
Anambra Day in lagos comes up tomorrow on 28th Oct, 2017, Time: 10:00am at the National Stadium endeavor to be there.
Thanks.
Signed by: www.awkaetititown.com.ng.
ANNOUNCMENT ANNOUNCMENT ANNOUNCMENT!!!
The family of Chief Sir Johnson Igwe (ide Awka-Etiti) announce the burial arrangement of late Lady CHRISTIANA NWANYIBUIFE IGWE.
On 10th of November,2017 at Ide's compound Iruowelle Village Awka Etiti.
May her gentle soul rest in peace.
ADA IDEMILI BEAUTY PAGENTRY
For BEAUTY PAGEANTRY ... only girls between the ages of 17-29years. Must be an Awka - Etiti indigene.
Dress / Costume must be pure Idemili attire.
TALENT HUNT; for both boys and girls. Must be an idigene of Awka - Etiti.
We intend to have Awka - Etiti in house preliminary in the next two or three weeks in preparation for the whole IDEMILI
own.
May the interested sons and dauthers of Awka - Etiti fill the forms & submit. We want many to join please.
Interested candidiates should fill the forms and send to Dr Mrs F. C. Olikeze. (PG Women Wing) on whatsup no. 08033122191 or soft@zelivesoft.com
AWKA - ETITI NEW YAM FESTIVAL
AWKA-ETITI NEW YAM FESTIVAL LIVE! – SATURDAY 5TH AUGUST 2017
TIME: 9:OOAM
Watch the cutting of the New Yam Celebration by HRM Igwe Okagbado live on www.awkaetititown.com.ng
Note: viewers questions and comments will be entertained
AIU Candidates
1. Name: OKPALA; AGUDO CHIKE MATTHIAS
Position: President General

PROFLE
Home Address: Ogunzele Village, Awka-Etiti Idemili South L.G.A. Anambra State
Postal Address: c/o Okwy P. Okpala. P. O. Box 6818 Surulere, Lagos.
E-mail: agudoawkaetiti@yahoo.com
Phone No: +234 (0) 8023107821; 08092746107.
MOTTO
Our greatness lies not in our struggle for positions but in our service to others.

GENOLOGY
I am son of Late Chief Innocent Anachebennwa Okpalaniukwu and Nnediugwu Cecilia Nwaataaku Okpalanikwu of Umuezeagu Kindred, Ogunzele Village Awka-Etiti.
Paternal grandparents were Late Chief Ogwugwudum Okpalaniukwu Ikedife (son of Ikedife and Ezijiaku nee Ezeulu of Umuezeokwunze kindred Iruowelle village) and Late Mrs. Ukonnwa Okpalaniukwu (daughter of Eze-ebosi and Eyiuche of Umuoneaku Kindred, Iruowelle village; Eyiuche being a grand aunty to Basil Okeke of Umuakuma Kindred Nkolofia Village)
Maternal grandparents were Late Chief Reuben Okpalankachukwu Ezembaukwu (son of Late Chief Ezembaukwu Umeojiako and Late Mrs. Ihuaku Ezembaukwu, sister to Nwokolo of Umuedeke Kindred Nkolofia Village) and Late Mrs. Nkembu-udeEzembaukwu of Umuocha kindred Ejighinandu Village. Nkembu-ude came from Umuanuka, Otolo Nnewi)

PERSONAL DATA
Sex: - Male
Date of Birth:- January 19, 1972
Place of Birth:- Awka-Etiti
Local Government Area:- Idemili South
State of Origin: Anambra
Nationality:- Nigerian
Marital Status:- Married
Religion: Christianity
INSTITUTIONS ATTENDED AND QUALIFICATIONS OBTAINED
University of Lagos, Lagos State, Nigeria (2012-2014)
Master of Science in Business Administration (Marketing) (2015)
University of Lagos, Lagos State, Nigeria (2005-2010)
Bachelor of Science in Business Administration (2010)
St. Joseph's Secondary School, Awka-Etiti, Anambra State (1984-1990)
Senior Secondary School Certificate (1990)
West African Senior School Certificate Examination (1992)
G.C.E O'Level (1992)
Ogunzele Primary School, Awka-Etiti, Anambra State (1978-1984)
First School Leaving Certificate (1984)

POSITIONS HELD
As a student
Publicity Secretary, Igbo Students Union, University of Lagos (DLI), Lagos- Nigeria (2010 session)
Chapel Prefect (Catholic) and Chief Disciplinarian, St. Joseph's Secondary School, Awka-Etiti (1989-1990)
Assistant Chapel Prefect (Catholic), St. Joseph's Sec School, Awka-Etiti (1987-1989)
In the Church
Secretary, Ogunzele Catholic Community, Awka-Etiti (2010-date)
Treasurer, St. Michael Igbo Community, St. Patrick's Catholic Church, Idumagbo, Lagos (1999-2001)
Provost (1986-1987); Assistant Secretary (1987-1989); Secretary (1989-1990); General Coordinator (1990-1994) Catholic Boys Organization of Nigeria, Old St. Joseph's Parish Awka-Etiti.
In the community
Vice President-General Awka-Etiti Improvement Union, AIU, (20014-date)
Lagos Branch Financial Secretary (2000-2006); Lagos Branch Secretary (2006-to date); General Secretary (2000-2009); General Chairman (2009-date) of Umuezeagu Kindred Ogunzele Village, Awka-Etiti.
Chairman Awka-Etiti Youths Assembly Lagos State Branch (20012-2014)
Financial Secretary (1998-2010), Secretary (2010-to date) of Ogunzele Village Community Lagos State Branch
Others
Secretary, Ohanaeze Ndi-Igbo Idemili South L. G. A. ( January 2017-date)
Secretary- General, Association Of Business Promoters And Marketers Of Oroyinyin, Jankara Lagos (2012-2014)
Vice Chairman (2002-2005); Chairman (2005-2012) of Okoya Youths Association, Lagos.
SPECIAL ATTRIBUTES
Sound interpersonal relations
Always ready to render service
Ability to work effectively either as an individual or in a team.
Organized and very reliable.
Technically competent.
Good communication skills

MY VISION FOR AWKA-ETITI
To make Awka-Etiti a model of Town Union led integrated development
MISSION
To create a peaceful environment where brotherly love abounds and with happiness indigenes and non-indigenes contribute willing to the development and progress of Awka-Etiti and her people.
OBJECTIVE
To, in the next three years, get our people to be fully involved in the overall development of Awka-Etiti and Awka-Etitians.
PROGRAMME OF ACTION/MANIFESTO
The above stated objectives will be achieved following judiciously these steps:
1. ADMINISTRATIVELY
My administration will carry out some administrative changes that will enhance people's confidence in AIU administration and ease administration of justice, peace and progress. This includes.
a. Accountability: My administration will constitute a financial committee to be headed by the Vice President General with Treasurer, Fin Sec and all the Village financial Secretaries as members. They will prepare our annual budget and see that it is implemented as approved.
b. CONSTITUTION: Using my experience so far gathered as Vice President General and other positions held and interactions with other towns, I will work with Constitution Review Committee that will be set-up to fashion a Constitution and laws that will bring about Peace, Unity and Progress.
c. LAW: I will propose laws that will make three important committees of Development, Educational and Peace, tenure bound and their memberships of a high quality caliber.
d. SECURITY: My government will continue to improve on the security of lives and properties of our people.
e. ENVIRONMENT: I will ensure continuous cleanliness of Eke and its environs and see that traders keep to clean and serene environment.
f. SPORTS: I will work with the Sports Committee to get sponsorship for our annual football competition.
2. PHYSICAL DEVELOPMENT
a. I will ensure completion of our Eke Market Project.
b. Awka-Etiti Improvement Union under my leadership will work for the completion of the health centre project and the place put into optimal use for the benefit of our people.
c. I will work with the proposed development committee and other stakeholders to:
i. Embark on modernization of our Town hall to a civic centre.
ii. To attract Governmental patronage to Awka-Etiti especially as it affects road infrastructure.
3. HUMAN CAPITAL DEVELOPMENT:
a. My government will train at least ten (10) youths in crafts like fashion designing, furniture making, shoe making etc and give them, on graduation, a start-up capital.
b. Through the education committee set up an Education/Human capital development Endowment Fund, to see to the education/training of our brilliant children from poor families. AIU as a body will be contributing at least N300,000 (three hundred thousand naira) annually to the fund.
c. In corroboration with our indigenous lecturers and Education Committee my government will give proper guidance to our children to easily gain admission into higher institutions and job after school.
d. My government will institute annual lecture for the Awka-Etiti.
e. In corroboration with the AIU Youth wing, AIU under my leadership will institute a quarterly workshop/retreat with aim to reframe the understanding of our youths.
f. AIU Government under my leadership will through The Education Committee institute annual essay and quiz competitions.
My experience and willingness to render selfless service are my strength.
Don't be deceived by false propaganda and sentiments.
Go for the best.
Remember, all that glitters is not gold.
Vote for Experience! Vote for Honesty! Vote for All Round Development!!!
VOTE AGUDO FOR PRESIDENT GENERAL AWKA-ETITI IMPROVEMENT UNION.
Remain Blessed.

NOTE: 1. A bird at hand is worth more than a million in the bush.
2. The Angel you know is much better than the 'Better Angel' you don't know
2. Name: Nnamdi Obih Ezenwanolue
Position: President General

3. Name: Nwadike Leonard Ifeanyi AIU Candidate
Position: Secreyary General
4. Name: Nze Ibeagwa Linus Ikechukwu
Position: Public Relation Officer
SPECIAL ANNOUNCEMENT ON THE DVD SALES
You can buy your copy of DVD on the 2016 Mass Return Event and Ito-Ogbo Celebration
1. The 2016 mass return DVD consist of five episode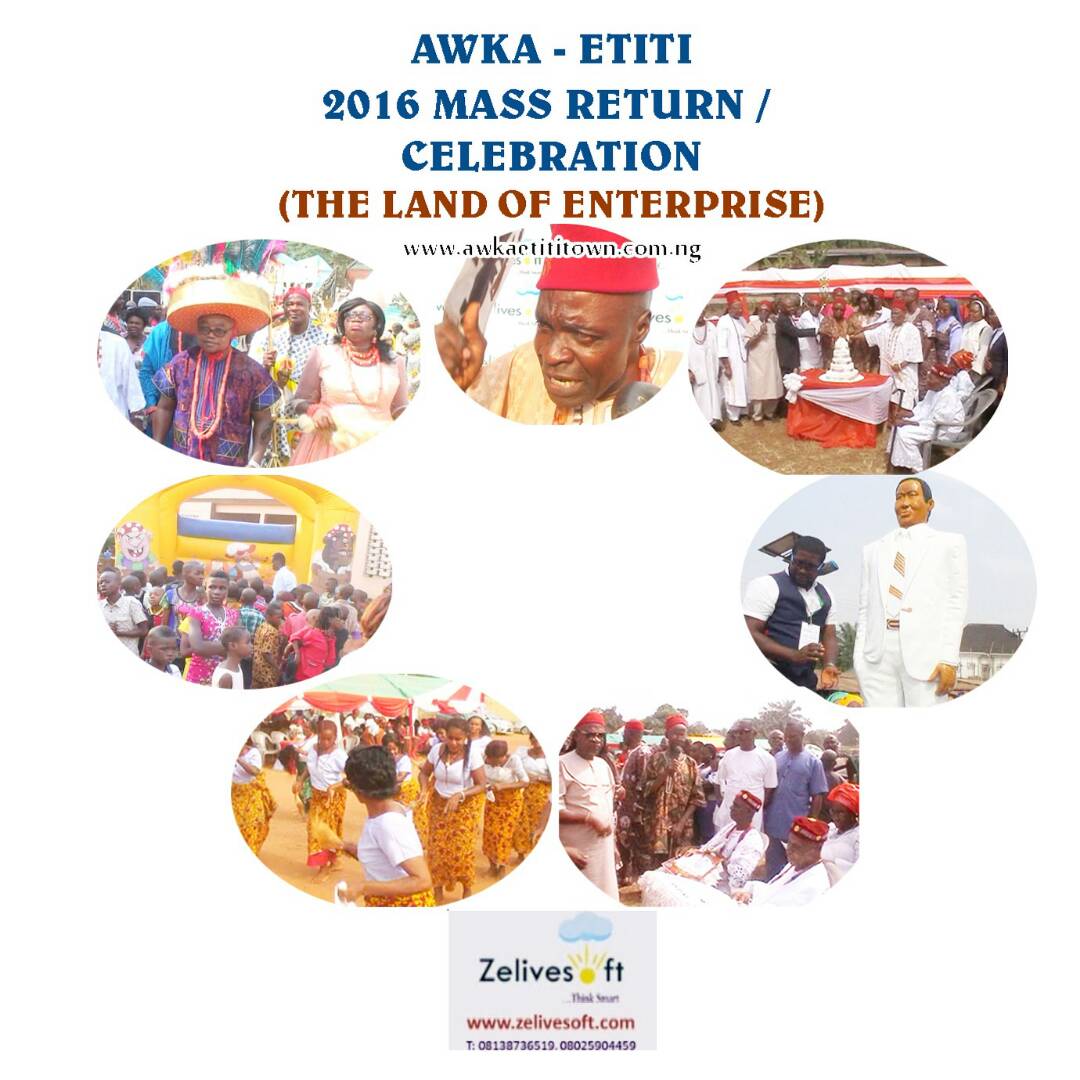 a. Coronation of Igwe Okagbado
b. Unveiling of the iconic statues
c. Children's fun day in Awka -Etiti
d. Women's day
e. Ito-ogbo celebration
=With Exclusive Interviews
2. Full coverage of 2016 ito-ogbo celebration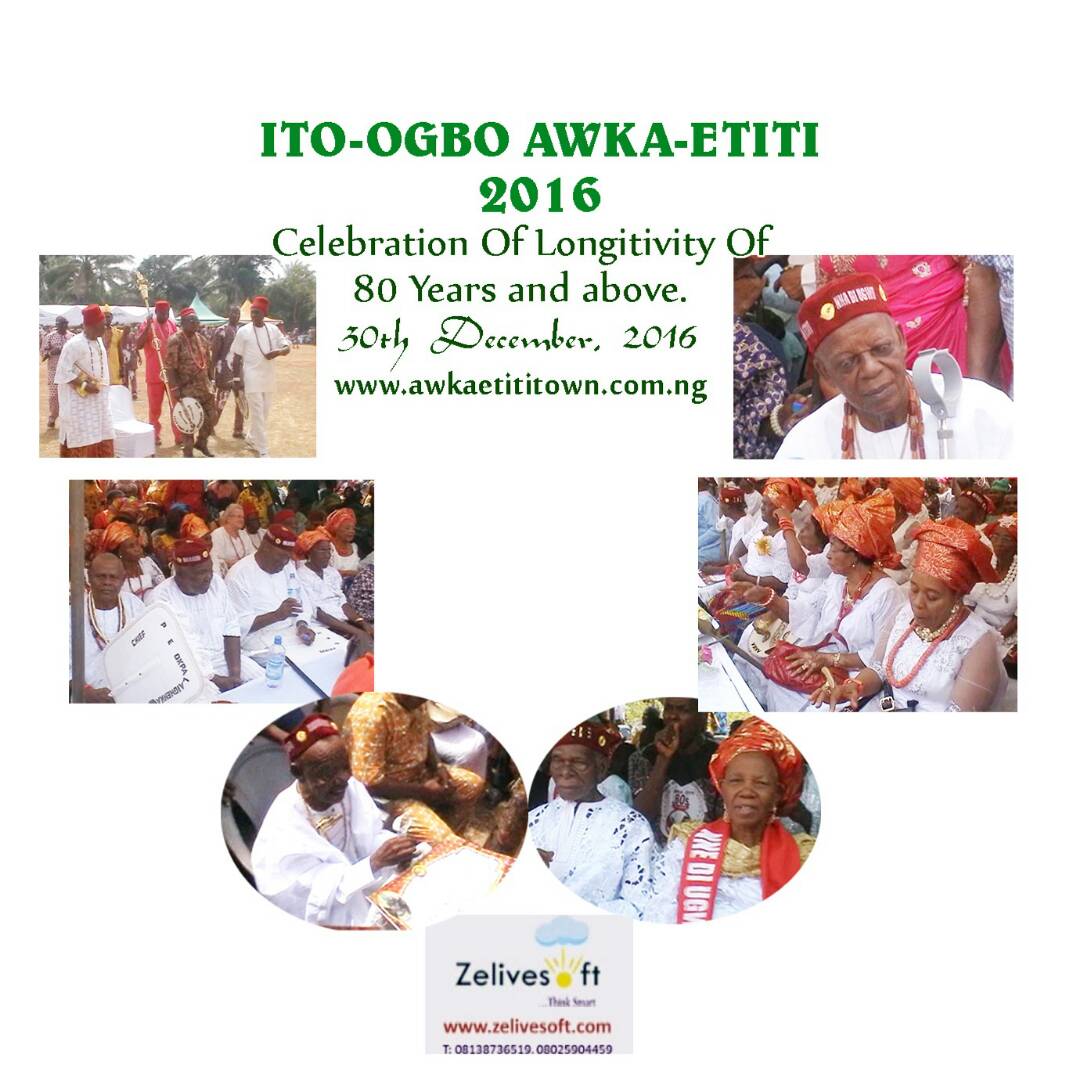 Grab your copy for only @N500
To Order your copy now Call @08138736519, 08168025326
HURRY AND GRAB YOUR COPY NOW WHILE THE STOCKS LAST!!!!!!
AIU ELECTORAL DEBATE
The Awka-Etiti League of Core Professionals is Organizing a Debate for all candidates contesting for the elective office of A.I.U.
This is the first of it's kind and the essence of this debate is to discover the selling points of each of the contending candidates in a particular field. An opportunity to let people know who their interested candidates are and what they have to offer to our esteem town.
The debate will be televised live via the internet on www.awkaetititown.com.ng and Youtube.
For more Information, Questions and Comment, visit our website @ www.awkaetititown.com.ng, or tweet us @awkaetititown or whatsapp us on 08138736519.
DATE: 22ND JULY, 2017
TIME: 10 AM
VENUE: AWKA ETITI TOWN HALL.
AIU ASPIRANTS DEBATE

ENUGU ELETRICITY DEVELOPMENT COMPANY BILL
For your prepaid meter, please go to this website; www.enugudisco.com, click on contact us, then click on register for prepaid meter. Please you should visit this website with your EEDC's bill. They will ask you for the following;
1. Name
2. Account number
3. Contact address
4. State of residence
5. District
6. Telephone
7. Email address
By
Hon. Chiedi chibuike
Assistant secretary General
Awka Etiti Improvement union.
REVISED: GUILD LINES FOR AIU ELECTION ON 4th AUGUST 2017
1. Awka-Etiti Electoral Committee Members are to conduct the election and announce the results.
2. Only Bonafide Awka- Etiti citizens of 18 years and above are eligible to vote, both men and women (Awka- Etiti Women Married outside Awka-Etiti are not inclusive).
3. Awka –Etiti Electoral Committee members as well as outgoing Executives of AIU, clerics and church leaders are not eligible to vote.
4. Election shall be by open voting system.
5. Voters are to line behind the candidates of their choice. That is any of the three candidates presented by the respective villages.
6. Once the counting begins nobody shall join the line.
7. Voting begins from the youngest village to the Eldest villages.
8. Voting begins from the position of provost to the position of the president general.
9. Campaign is prohibited on the day of the election and also in the election premises.
10. Only candidates duly sent in by the villages, screened and cleared by the electoral committee shall be eligible to stand for election.
11. All appeals shall go to the AIU Executives after the election if there is any,
12. The Igwe and his Ndi –Ichie shall not be Eligible to vote because of their position.
Signed by
Rev. Ifeanyi Nsofor Pastor Azubuike Azubike
Chairman Electoral Committee. Secretary Electoral Committee.
Awka – Etiti General Election
Awka – Etiti General Election is coming up on the 4th of August 2017.
Positions to Contest;
1. President General
2. Vice President General
3. Secretary General
4. Financial Secretary
5. Treasurer
6. Provosts