Chief Isaac Onyeme – Founder AIU
Unveiller –Dr. Francis Ezissi
Citation –Dr. Mrs. Theresa Okafor
CITATION OF PA ISAAC IKEGWUONU ONYEME (ELOSIEBO)
Pa Isaac Ikegwuonu Onyeme (Elosiebo) was born in 1892. He started his journey when he went to live with Iweka of Obosi in 1916. His duty then was to carry goods mainly cutlasses on his head from Obosi to Afor Nkpor and Ugwuta for sale. Pa Isaac would always go to farm for his master any day he did not go to market.
His moral behaviour and hard work so endeared his master, Iweka, that Pa Isaac was asked to be closing at 12:00 noon to come home and rest so as to act as his (Iweka) security man at night. Iweka's wife due to her interest in Ikegwuonu Onyeme devoted her time in teaching his English and Igbo alphabets, (such as A,B, C,D, and A,B, CH, D) This enabled him to be reading bible and simple letter writing.
In the year 1917, Pa Isaac Ikegwuonu Onyeme went to work with Mill and Brother at Owerri NTA.
In 1918, he left for Aba and being the only Awka - Etiti indigene then at Aba, he engaged himself in hthe business of palm product. As a successful businessman then, he joined the OnitshaProvine meeting at Aba. Pa Isaac made sure that any Awka - Etiti indigene taht came to Aba was encoraged to join the meeting.
Successfully in his business soon fetched him a house and he became a landlord, (a big name by then). He made sure that any Awka - Etiti indigene that came to Aba did not suffer frustration: instead Pa Isaac would shelter him without rentage. At a time he haboured over thirty (30) Awka - Etitians.
He then organized a meeting of Akwa - Etitians living in his house. He was made the chairman. Due to the fact that each time rthey attended the Onitsha Province meeting, they would hear that Onitsha, Nnewi and Ozubulu had each got their own constitution. It was at this juncture that when they asked about constitution, they were told that unless they called meeting of home and aboard, it will not be possible to have a constitution. In view of this Pa Isaac Ikegwuonu Onyeme (Elosiebo) summoned a meeting of the Elders at "Azu - Oji". In that meeting Pa Isaac introduced six other men including himself and their villages to the elders present and informed them of their mission.
At that meeting one of the elders asked him whether the meeting of Home and Abroad he was presenting to them would not be how to remove Eke market or the shrine in their town. Pa Isaac explained that it was not their mission and took an oath that if along the line they discovered otherwise let them leave the other six men and hold him responsible. He went further and stated that if such a thing happens they should use a special type of rope called "Ekwere akuru agbu" to tie him.
At this juncture the elders accepted his mission and asked him to go ahead and start the meeting. After this, Pa Isaac Onyeme and the six men went back to Aba to tell the people there the outcome of their journey. On their new date for the meeting they invited people from Zaria, Jos, Onitsha, and Aba. This gave birth to Awka - Etiti Improvement Union (A.I.U) and Late Chief Pius Okudo was elected as the First President.
Pius Ositadinma Okudo - First Elected President General AIU
Unveiller - Chief Rahael Obi (Akuirighiri)
Citation - Dr. Mrs. Nwanneka Abasilim
CITATION OF CHIEF PIUS OSITADINMA OKUDO (Chairman of Awka-Etiti Improvement Union 1943-1958)
Antifungals EARLY DAYS
Chief Pius Ositadinma Okudo was born to the family of Okudo Ugonabo in Iruezeani-Ukwu kindred of Umuakuma Ward 3 of Nkolofia village, Awka-Etiti. He was a man of humble beginnings who grew up with strict discipline and hard work. He devoted greater part of his life to selfless service to humanity. His formative years characterized by hard work ensured a great future for him which was evident in his guiding principles, dress habit, personal discipline, exemplary leadership and his charitable works.
CAREER LIFE
High level of dedication, diligence, and adherence to the highest ethical standards and fear of God were Chief Pius Okudo's hallmark in his profession as wristwatch engineer and a merchant in bicycle spare parts. He used the proceeds from his work to protect many sons and daughters of Awka-Etiti from aggression and encroachment from neighboring towns with the assistance of some other Awka-Etiti indigenes. This great attribute of him and other underlying characteristics patterns of behavior and tendencies gave him a distinct identity while he lived on earth.
POLITICAL ACTIVITIES
Following the above attributes, Chief Pius Okudo was approached by the seven villages of Awka-Etiti who appealed to him to steer the machinery of leadership of Awka-Etiti Improvement Union as the pioneer President General for the first time in the history of Awka-Etiti town. This he did with every commitment, dexterity and truthfulness. He was a man who defended the truth no matter whose Ox is gored.
Chief Pius Ositadinma Okudo left an indelible imprint in the annals of history of Awka-Etiti. Some of his achievements include but not limited to the following;
He was a pillar of education in Awka-Atiti having used his God given wealth to train over 200 indigenes of the town in school up to the level of institution of higher learning. He also accommodated 80% of non indigenous teachers in his house to enable them impact sound education standard in our people.
Chief Pius Okudo was instrumental to the building of Awka-Etiti town hall. Throughout his 12 years leadership of Awka-Etiti, he was well known as Solomon of those days, his adjudication and arbitration acumen was second to none.
Chief Pius Okudo, as the president of Awka-Etiti town union, financially assisted many families of Awka-Etiti irrespective of their village or kindred. He built the love of brotherhood which our town is identified with.
Chief Pius Okudo had many awards and certificates of honor and merits during his time and also many post hummus awards in his name by both public bodies and religious institutions.
Upon the above qualities mentioned, Chief Pius Okudo was the first and longest served president general of Awka-Etiti improvement union. Today, the Awka-Etiti Improvement Union, unveils a man of simplicity, humility, and unobtrusive charity, a man of great love and regard for Awka-Etiti and its people, a man of uncompromising truth, Chief Pius Ositadinma Okudo, to the glory of God.
Justice Lawrence Anoliefo - The First Judge from Awka - Etiti
Unveiller - Chief Gab Akajiobi (Ichie Onuo - Ofoo)
Citiation - Bar. Lady Chinyere Mbaegbu
PROFILE OF LATE JUSTICE LAWRENCE CHUKWURA ANOLIEFO, KSM
The Late Justice Lawrence Chukwura Anoliefo was born in 1930 to the family of Ezeanabuo and Akusonwa Anoliefo. He started his primary school at Awka-Etiti and concluded at Aba. He had his secondary school education at St.Patrick's collage, Calabar after which he proceeded to kaduna and Markurdi where he worked as a Court Clark. While working as a court Clark in Makurdi, the Colonial Magistrate at that time, encouraged him to go and read Law in Cambridge to which he did, graduated and was called to the Middle Temple in London. On his return to Nigeria, he joined private practice in Makurdi. He got married on the 10th of January, 1965 to Maria Emelibut by January 1966, he had to return to Eastern Nigeria because of the coup that took place at the time. He continued his private practice in Aba. In 1967, he was appointed a Magistrate and was posted to calabar and also worked at Ikot – Ekpene. At the fall of all these territories to the Nigerian Troops, he took his family and returned to Awka – Etiti. At the peak of the Nigerian/Biafran Civil war, he was working at the Transport Directorate in Nnobi. However, he did not stay long as he was then sent as a Biafran Envoy to Sierra – Leone where he worked as Magistrate and was stationed at Bo.
On his return to Nigeria in early 70s, he went back to Makurdi , and continued his private practice until he was invited by the then Governor of Anambra State Brig .Gen. Atom Kpera and was appointed the chairman of Old Idemili Local Government in1976. At the end of his tenure as chairman, he returned to Makurdi and joined the Minister of Justice where he rose to the position of Director of Public Prosecution. In 1980 he was appointed a High Court Judge and posted to Gboko High Court, a position he held until 23 December 1986 when he was assassinated as he came home for Christmas.
As a Judge, he was very dedicated to his work, straightforward and was a good Catholic and a Night of St. Mulumba who did not compromise the truth for any gratification. He was loved and respected by the Benue people who welcome him in their land and identified with him when the need arises. He was a good husband and father. He was a patriot and a gentleman with a good vision for the development of Awka – Etiti that during his life time, he facilitated the coming of the Minister of Communication who brought the post office to Awka – Etit and the Minister for Water Resources during the second Republic who awarded the contract for the borehole and the ten thousand liters capacity overhead tank at the town hall. He was the Chairman of the constitution drafting committee that produced the first A.I.U Constitution for Awka – Etiti. He was the Founder of the Action League that triggered real development in Awka – Etiti including the modernization of Eke Market hitherto thatched huts. He was the first Lawyer in Awka – Etiti who paved the way and encouraged many of the young ones to engage in positive venture particularly going to school to be professionals. He never condoned Laziness and was so principled that he would never compromise standards or hard work. He was outspoken and daring. Lawrence was keen sportsman. He played football as a young man for the defunct Northern Nigeria team based in kaduna. An ardent tennis player, a game he loved and play till death.
He is greatly missed by his family and loved ones and the entire people of Awka – Etiti who found it hard to forget his meritorious and dedicated service to humanity in general and Awka – Etiti in particular.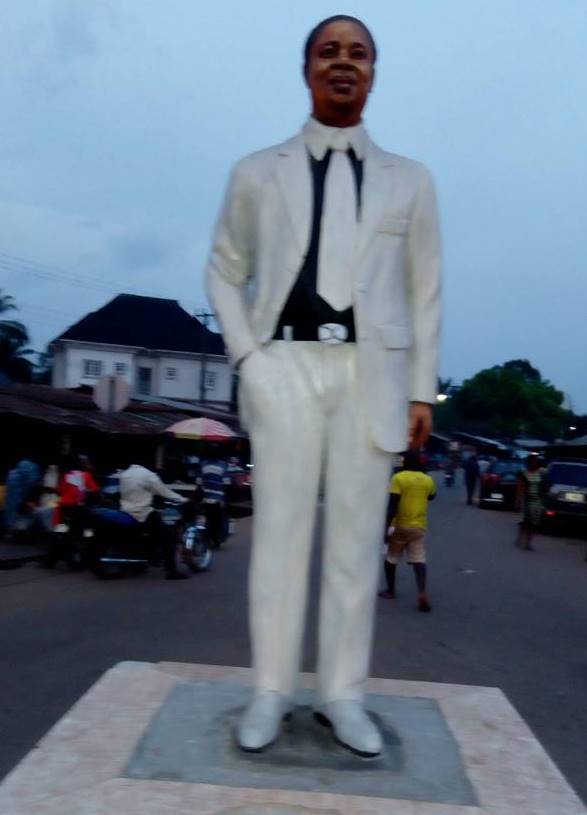 Chief Sir. G.E. Chikeluba - Symbol of Philanthropist
Unveiller - Ambessador Sam Okechukwu
Citation - Dr. Mrs. Chinwe Olikeze
CITATION/PROFILE OF LATE CHIEF SIR GODWIN EKEJEKWU CHIKELUBA KSM
The late Chief Sir Godwin Ekejekwu Chikeluba was born in 1934 to the family of Late Chief George Ojukwu Chikeluba in Iruowele Village of Awka – Etiti. He started his primary school at Aba and was able to navigate through its conclusion by the intervention of some of his relatives notably Chief Sammy Dalla (as he became an orphan seven years after his birth) The young Onwa lived with his elder brother Chief V.C.George – Inchie Akunnia at Aba. ONWA AWKA ETITI as he was popularly called did not attend secondary school. Tes he did not. But the fact remains that man's education is to develop, draw out and nurture the inert qualities in man for his/her benefit and that of the society where he lives. Permit me to remind us that which is called native intelligent is part of that inert qualities. ONWA AWKA ETITI was robustly endowed with such qualities. The proof of this was shown when he was able to complete his apprenticeship within 8 years at the time when people used to stay not less than 10 – 12 years with their masters. In 1957, he co-founded the GMO group of companies with Chief Sir. J.O.Igwe (Ide Awka Etiti) and Chief Michael Arinze (Ogene Awka Etiti). A company which was and still a house hold name in Awka Etiti. He was the chairman of Board of Directors of the company as the Board chairman. To say that he was successful as a businessman, a leader, a father and a husband is of essence.
EZENYIMBA, ONWA AWKA ETITI did not see the four walls of the university. If I am right, and it is true that the essence of university education is to graduate in your area of interest and ability. Yes, he graduated in his area of interest and ability which is business as one will not count successful Nigeria businessmen at his time without mentioning ONWA. Though he was a computer literate, but he was able to use his native intelligence to network their business and brought it to international standard.
He got married to his dear wife Lady Mercy Ada-Eze Chikeluba and bless with Eight children.
Sir G.E. Chikeluba's philanthropist attitude was so much that many prefer to address him as ONWA NKEANYI. Why? Because he touched the lives of people irrespective of who they are, where they came from and their religious or church denominational inclinations. His sympathetic attitude to the less privilege was unparalleled as he gave out generously and made heavy donations to individuals, churches, towns, clubs, unions, and even the government. Many benefited from his scholarship awards.
He was a master of countless number of masters as he mentored and tutored many successful business men and women from and outside Awka – Etiti. If you did not benefit from his benevolence directly, someone by you and in you must have. He was a rear GEN.
ONWA AWKA ETITI was not just a Christian, but a devoted and practicing one. Served as a pastors' warden for decades at Lagos, was a major donor in the developmental activities in St Mary's Anglican Church, Awka-Etiti, he was a knight of St Christopher by the Church of Nigeria, Anglican Communion at All Saint Cathedral Onitsha in the Diocese on the Niger to mention but a few.
ONWA was a great socialite. He was a friend to both small and big, young and old, a quality possessed by few. Was a top member, a pioneer national patron and trustee of the prestigious people' Club of Nigeria, member Onitsha Recro Club, member Ikeja Tennis Club etc.
Very accommodating to all respective of your social status.
One of his philosophy is haed work. He believed so much in St paul's injunction that he who must eat must work hard. To that effect, he never relented in his efforts to aid, guide, support, hard wprking Awka Etitians. Both oral and written records abound.
On the night of 10th April 1990, ONWA AWKA ETITI, EZENYIBA AWKA ETITI, A GREAT PHILANTHROPIST an Iroko tree that housed many and numerous beings, the Chairman Board of Directors of GMO group of companies, the loving husband and a caring father of his children was murdered in cold blood at his home in Lagos. What a great loss?
Late Chief Oyiatuigbo Obiagwu - One of the Appionted Warrant Chiefs
Unveiller - Chief I.K.B. Igboanugo
Citation - Prof. Chinwe Muodumogo
Citation of Late Chief Oyiatuigbo Obiagwu (1857-1955)
Born to Chief Obiagwu Ogige Chukwu and Late Madam Akuagwu Obiagwu in 1857, Chief Oyiatuigbo Obiagwu was the renowned charismatic leader and chief of Awka Etiti whose leadership qualities made him an enigma of a sort to his contemporaries and the government of the time.
Chief Oyiatuigbo was certified the warrant Chief of Awka Etiti in 1915. His astuteness and honesty earned him a permanent seat in the then Nnobi judicial council from 1915 until his demise in 1955. Being a man of integrity with peaceful disposition, he played a critical role in resolving the age long crises between his chiefdom and the neigbouring towns. In collaboration with the Chiefs of Nnewi and Azigbo the lingering land dispute among the three communities was amicably settled, thus the famous land mark Obenano was established in 1920. Chief Oyiatuigbo's leadership style earned him the respect and recognition of the District Officer (D.O) D.P.J Gardener during the time of Lord Luggard
Chief Oyiatuigbo Obiagwu's dexterity in handling issues also extended to his family life. He successfully, managed five wives and many children in a harmonious home environment worthy of emulation.
The late Chief, Nwoke Teghete, Okwulu-Oka, Oputa Okwu Ebi of his time, the man whose name typifies the uniqueness, resilience, ambiance, doggedness, fearleness, resoluteness ,and the tenacity of the Igbo man and the Awka Etitian in particular "Oyiatuigbo" –The Igbo man is hardly intimidated-
HRM Igwe S.O. Ezenwa - First Elected Igwe / Obi of Awka - Etiti
Unveiller - Chief Gozie Chibueze (Iche Omenife)
Citation - Prof. Mrs. Uche Nzewi
CITATION OF LATE EZEIGWE DR SILAS 0.C EZEWNA II THE OBI OF AWKA-ETITI (1957-2005)
His Royal Majesty, Ezeigwe Dr Silas O.C. Ezenwa II was born in 1923 at Awka-Etiti to the family of Late Paramount Chief Ojukwu Ezenwa Nwosu and Late Madam Elizabeth Chiananam Ezenwa, from the royal family of Obi Ezissi Ogbai Nnaku Village in Nnokwa.
He had his primary education at St Cyprian's School Port Harcourt and Central School Nnobi and finished in 1941. In 1942, he embarked on retail trading at Onitsha and Aba. By 1948, his business had grown into transportation, importation and general merchandise under the business name, Silas Bros & Co. For effective management of his businesses; he took correspondence courses in Business Management. In 1952, he established Silas Bakery and Confectionary, a product that became a household name. His main focus however was in the development of Awka-Etiti and the betterment of the welfare of the people, hence he had many Awka-Etiti people in his employment.
In 1957, the Umu-Ezechukwu family presented him to Awka-Etiti as her nominee for the vacant Obiship stool. He contested and won and was crowned the Obi of Awka Etiti on 19th October, 1957.
In 1959, he was made the clan head of Nnobi clan, and in 1960, he was selected a Second Class chief to represent Onitsha Northern County Council in the Eastern Nigeria House of Chiefs. On the 6th of October 1960, he was issued a certificate and staff of office confirming him as the Obi of Awka-Etiti, by the then Premier of Eastern Nigeria, Dr M.I. Okpara. In 1961, he was elected President of Onitsha Provincial Assembly and remained a member of the Provincial Assembly till 1967, and the President of Onitsha Provincial Chiefs. He later became the chairman of Idemili Traditional Rulers Council and when Idemili South LGA was created, he was also elected the chairman of Idemili South Traditional Rulers Council.
In 1962, he was admitted a Member of the British Empire (MBE) and received the Queen of England's Medal.
Igwe S.O. Ezenwa received a lot of awards and recognitions in his life time. Some of them are: Fellow, Institute of Management and Administration – 1955; the Nigerian Society of Commerce 1996' the institute of Administrative Management Excellence in Traditional Rulership award; the Niger Diocesan Merit Award in 1997 and in 2001, he was awarded a Doctorate degree (Honoris Cuasa) by an American University.
The late Igwe S.O. Ezenwa was a people builder who believed that education is a major way to lead his town to success, hence in 1962; he sought and obtained permission for the establishment of St. Joseph's secondary school Awka-Etiti. In 1964, he personally established a co-educational Secondary School, Awka Etiti Grammar School, now known as Girls' Secondary School, Awka-Etiti.
His philanthropic activities manifested mostly in educational promotion. He awarded over 100 primary, secondary and University scholarships to many indigenes and non-indigenes of Awka-Etiti, many of whom he also sponsored abroad.
The five decades of Ezeigwe Dr SOC Ezenwa's occupation of the Obiship stool of Awka-Etiti witnessed rapid infrastructural and human development. Igwe Ezenwa exuded abundant humility, tolerance, endurance, dexterity, decorum and an unequalled majesty of as a royal father. He brought a quintessential elegance and panache to the throne and this has not been surpassed to this day. His Majesty Igwe Dr SOC Ezenwa II is still missed till this day.
He celebrated his last Ofala on the 23rd day of December.