NINE DEAD, SCORES INJURED IN COLLAPSED LAGOS BUILDING
No fewer than nine persons including Nursery and Primary school pupils, lost their lives after a three-storey building caved in, yesterday, at Dagara, street, Ita Faaji, Lagos Island.
The Ita Faji building collapse yesterday however, 24 of them, the majority of who were females were rescued and rushed to the Lagos Island General Hospital, where doctors battled to resuscitate them. Some of the injured had fractures, bruises and severe cuts on part of their bodies, while scores of others were still trapped under the debris with rescue operators, including residents making frantic efforts to evacuate them, as at 7.45pm.
The topmost floor of the three storey building was occupied by Ohel Nursery and Primary school, with a penthouse on it. The school had about 100 pupils as at the time of the incident. While the first floor was purely residential, the ground floor was for residential and commercial purposes. The first, second and penthouse, as gathered, caved in at about 10.30am, burying the pupils, staff and residents.
Youths in the area were said to have commenced evacuation work before the arrival of rescue operators. Residents, however, claimed that rescue operators arrived the scene about two hours later. Among the first corpses brought out from the rubbles was that of a six-year-old Primary one pupil identified as Adeyemo Taiye, whose parents live in the same building. Her twin sister, Adeyemo Kehinde, was later brought out at about 2.19 pm, alongside a pregnant woman. Kehinde who was struggling to remain conscious was rushed to the hospital while her mother, a petty trader, was seen wailing.
Cause of collapse Vanguard gathered that the collapsed building and about 15 others on Dagara and Massey streets had been marked for demolition by the Lagos State Government. Residents alleged that each time government officials came; owners of the affected buildings would give them money ranging from N30, 000 to N150, 000, depending on the number of floors, to prevent their buildings from being demolished. Thereafter, owners of the buildings would repaint them to erase the red mark on it.
One of the residents who spoke with Vanguard, Mr M.M Labidjo, said, "The incident occurred at about 10.30am but there were no rescue operators until two hours later. The building had visible cracks on it before it collapsed. Most of the houses here were marked for demolition, but corrupt Lagos State officials usually collect money from landlords. As I speak, one of the marked houses here has its pillar tilted to a corner, yet the landlord has not done anything to address it and people are still living there. "This particular building that collapsed was built about 50 years ago. They have told the owner to work on the cracks.As if that was not enough, the owner of the school built a penthouse on it, where children in crèche occupied." The Ita Faji building collapse yesterday Lamentations A woman, who was sighted wailing and rolling on the floor, said her sister's three children were pupils of the school. The woman, who simply gave her name as Iya beji, said: "My sister's three children are still under.
They are of ages 7, 9 and 11. Ah! God, save Ibrahim, Yusuf and Oloade for us." As she wailed, another woman, Iya Adio, who resides at Messy Street, but sells fish at Ijora, placed her two hands on her heads as she marched briskly to where evacuation was going on. In her confused state, she started removing the debris with her hands in an apparent attempt to get to where her three children were trapped. But she was prevented from the further trial, as she was informed that one of her children had been rushed to the hospital. Another woman identified simply as Iya Gbenji, blamed herself for allowing her son to go to school, saying: "Gbenji did not want to go to school today (yesterday).
He said he had stomach upset and I thought it was one of his pranks. I gave him bread and tea and also made him eat out of the food he was to take to school, yet, he said he won't go. I did not know he had a premonition of what was to occur. "I had to give him N50.000 and an extra piece of meat before he reluctantly left. When I heard about the collapse, I screamed and concluded that could have been his reason for not wanting to go to school…" She was cut short by a relative who suggested they go to the hospital to know if her son was among those rushed there.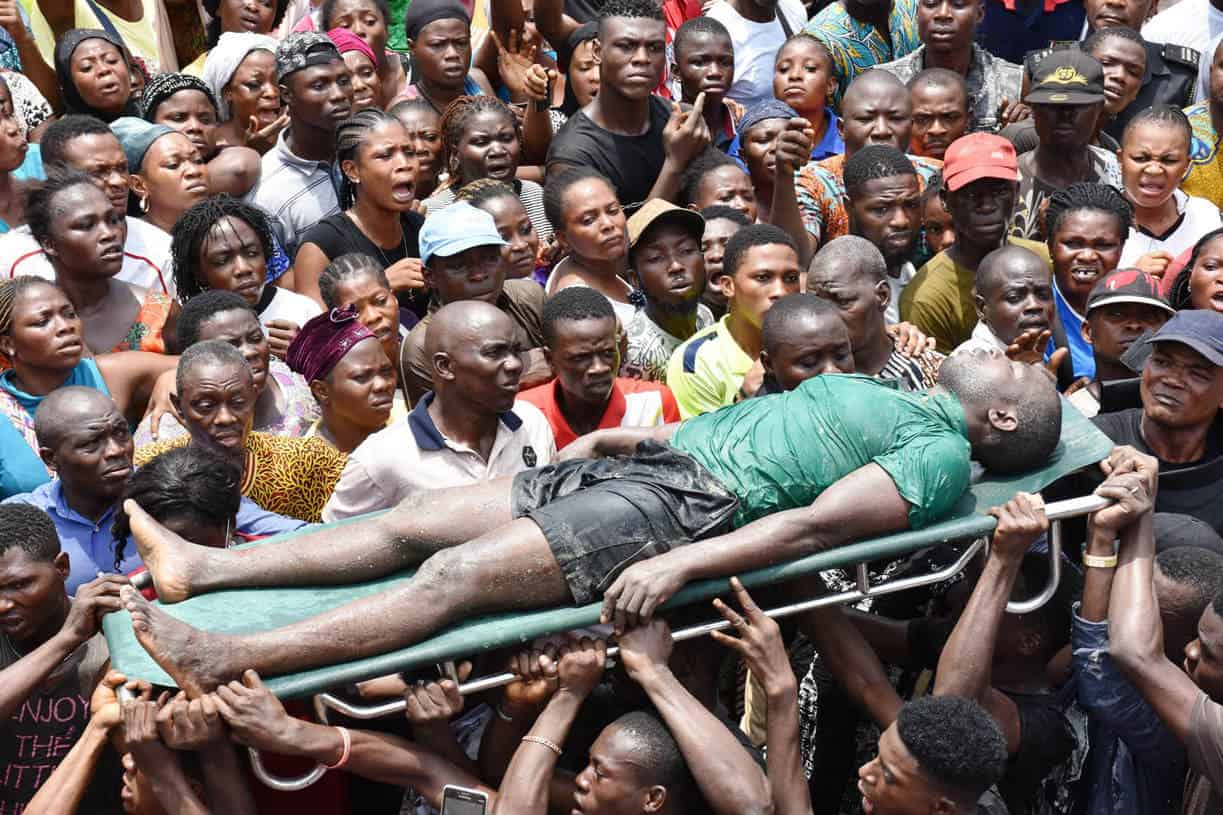 Another parent lamented that his three children only started school yesterday, has been home since the term began, following his inability to pay their school fees. Emergency personnel rescue a child at the site of a building which collapsed in Lagos on March 13, 2019. – At least 10 children were among scores of people missing on March 13, 2019 after a four-storey building collapsed in Lagos, with rescuers trying to reach them through the roof of the damaged structure. The children were attending a nursery and primary school on the top floor of the residential building when the structure collapsed. Police said they believed scores of people were trapped under the rubble. (Photo AFP) Names of rescued, injured victims When Vanguard visited the Lagos Island General Hospital, relatives of rescued victims were sighted pacing the Accident and Emergency ward. None of them could speak on the condition of their loved ones.
Twenty-four victims were admitted at the hospital. Among them were 14 females and nine males. They were: Adeyemo Kehinde, Adedoyin Rukayat, Sanusi Rukayat, Suleiman Baraka, Rasheed Shukurat , Komolafe Saidat , Hassan Omotolani , Abimbola Faruq and Alabi Quayum. Others are: Afolabi Rodiat, Olawusi Rokibat, Alawu Fayibat, Adedoyin Kehinde, Rasheed Labat ,Naimot Tise, Alabi Kabiru, Shashore Kabiru, Ogunsanwo Daniel , Owolabi Ayomide and Ayeni Faruo. More buildings will collapse – ARCON President President of the Architects Registration Council of Nigeria, Dipo Ajayi, who was at the scene, said more of such tragedy would occur in the area if the government did not take urgent step to evacuate residents whose buildings had visible cracks. Wondering why such buildings were still being occupied by tenants, he said, "If you look at this environment, it is one of the oldest places in Lagos. Most of the buildings here are dilapidated.
In a matter of time, some of them will come down on their own because they are very weak. These buildings were built with bricks. There are no iron rods and no reinforcement, which means the urban renewal of this place, is overdue. It is the responsibility of the Government to relocate these people in order to forestall a reoccurrence." Why building caved in — LASG Meanwhile, General Manager, Lagos State Building Control Agency, LASBCA, Olalekan Shodeinde, blamed the tragedy on the additional structure on it. He confirmed that the building was marked as distressed in 2017 after it experienced foundation failure when the bearing capacity of the soil could not sustain the added structures on the building. Shodeinde, who was represented by the agency's secretary, Tayo Fakoluyo, said: "The additional load of penthouse imposed on the distressed structure added to the design capacity and load being transferred through the structural members made the building heavier than the capacity of the soil which is the ultimate load bearer."
Ambode, Army, Police officers visit the scene Governor Ambode who visited the scene sympathized with those affected by the tragedy. He informed that integrity tests had been conducted on some buildings in the area, to ascertain whether they were habitable, threatening that any building that failed the test would have the necessary action taken on it. On the part of the state government, he said it would take care of the hospital bills of those admitted. Already, he said his deputy was at the hospital to see the injured, adding that after the treatment, they would be kept in a proper place for further care.
Also at the scene, were the General Officer Commanding the 81 Division of the Nigerian Army, Major General Sani Yusuf; the Commander 9 Brigade, Brigadier General Timothy Lagbaja; Commissioner of Police, Lagos State Police Command, Zubairu Muazu; Commander Rapid Response Squad, RRS , Tunji Disu, and the Area Commander 'A' Bode Ojanuni. Also present were Chairman, Lagos State Emergency Management Agency, Mr Adeshina Tiamiyu, and the Chairman, Lagos State Neighborhood and Safety Corps, DIG Isreal Ajao (retd) among others. Rescue operators at the scene included the Police, officials of the National Emergency Management Agency, NEMA, Lagos State Ambulance Service, Lagos State Fire Service, Lagos State Building Control Agency, and Federal Fire Service.
Others were the Nigeria Security and Civil Defence Corps, Nigeria Red Cross Society and LSNSC.
40 persons rescued-LASEMA
The General Manager, LASEMA, Adesina Tiamiyu, who spoke with journalists at the scene, said: "We have rescued close to 50 and about 40 of them are alive. I can't give an exact figure because we keep taking them in and out and it is not the counting that is important now. We will be able to put our figures together when evacuation is over and by then, we will talk to the press. "We must get to the bottom of this building and we must account for everybody that is in this building as claimed. The school must have a record of pupils who have been here and we also expect parents to come around to identify those of them that have been rescued.
For those who are still being rescued, their parents are here, we will allow them to identify them as we bring them out and after which we will take a head count to ensure that nobody is still trapped within the building. ''We have provided oxygen for those who are weak. We have also been able to drill a hole so we can be able to reach them. Our escalator has created a safe place from the side, to enable us to enter. If we start from the front, it will be very difficult because that will be putting weight on the already weak structure.'' Similarly, Chairman of Lagos Island Local Government, Mr Samau Bashua, said though the primary thing was to save more lives, he added that legislation on illegal private schools and distress buildings would be addressed later. He said: ''We are collaborating with the Lagos State Government Building Control Agency LASBCA, to identify more of these buildings as we have been doing. When we identify more, we will pass the information to the government for seal up.'' As at the time of this report, Bashua said: ''We have confirmed 9 dead, but we hope to be able to rescue the rest still trapped soon enough.''
Buhari sympathizes with families of victims Meantime, President Muhammadu Buhari, in a statement by his Special Adviser on Media and Publicity, Femi Adesina, sympathized with the families of victims. The President in the statement charged the Lagos State government to do all that was needful, to avoid future recurrence of such tragic developments. He said, "It touches one to lose precious lives in any kind of mishap, particularly those so young and tender. May God grant everyone affected by this sad incident fortitude and succour."